Work Wear Look & 5 Tips to Stay Active At Work
Some Helpful Tips to Stay Active at the Office
Work Outfit Idea for Women
I tend to gravitate to simplistic work wear outfits during the week when I'm at the office. There are some days when I haven't practiced my nightly tips for a smoother morning and I'm scrambling out the door. On those days, I quickly throw something together and head out. But then there are days when I want to take my work wear attire up a notch and this outfit was inspired by one of those days. If you peel back the layers, it's a simple pencil skirt and basic button-down but incorporating the printed scarf really adds a bit of interest and completes the look. I previously featured this scarf with a more casual look but think it works well here, too.
5 Tips to Stay Active at Work
When you work in an office environment it can be incredibly difficult to remain active throughout your workday. Over the years, I have found a few things help me stay active at my desk job.
1. Park Far Away
Walking or biking to work is obviously ideal but I have to drive each morning. Instead of parking close to the front door, I park further away. Not only does it get me moving but I also get to stay outside longer. It's simple but it really works to get a little extra movement in at the start and end to each work day.
2. Plan an Off-Site Meeting
Rather than having clients or vendors come to you, why not make a point to see them. It's a great way to get up and out of the office, get some fresh air and the change of scenery could be really great for your state-of-mind.
3. Use a Stand-Up Desk
This has been a complete game-changer for me. An adjustable stand-up desk has been so helpful with my movement each day. There have been so many studies over the recent years touting the benefits of standing during the day vs. the harm to your health caused by sitting. I found it easy to adjust to a stand up desk and truthfully have it in the upright position even more than I expected. Having the option to stand and sit throughout the day is ideal when you're behind that computer for 8+ hours.
4. Plan an Active Lunch Hour
This is one of the best ways I remain active throughout the day. It saves me time and I get my workout in. Now I know not everyone has the option to work out during their lunch break but if you do, I highly recommend it. Depending on what I have for meetings and work commitments, I typically eat lunch early and continue to work at my desk (around 11:30 am) and then hit the gym around 2:00 pm for a quick workout. I like this time of day because the lunch rush is over and when I get back to the office, it's nearly time to head home.
5. Take a Break
I need to keep reminding myself about this one. It's important to take a break or quick walk around the office to not only stop looking at your computer screen but get that body moving. I usually like to chit chat with a co-worker for a few minutes and then head back to my work and it really does make a difference.
Extra Tip: Pack Some Healthy Snacks
I am a HUGE snacker so I like to bring healthy choices from home. I bring in nuts, dried fruit and veggies and hummus. This helps me stay away from the packaged stuff. That said, I am such a sucker for Skinny Pop!
Do you have any great tips for staying active while at the office? I'd love to hear in the comments below!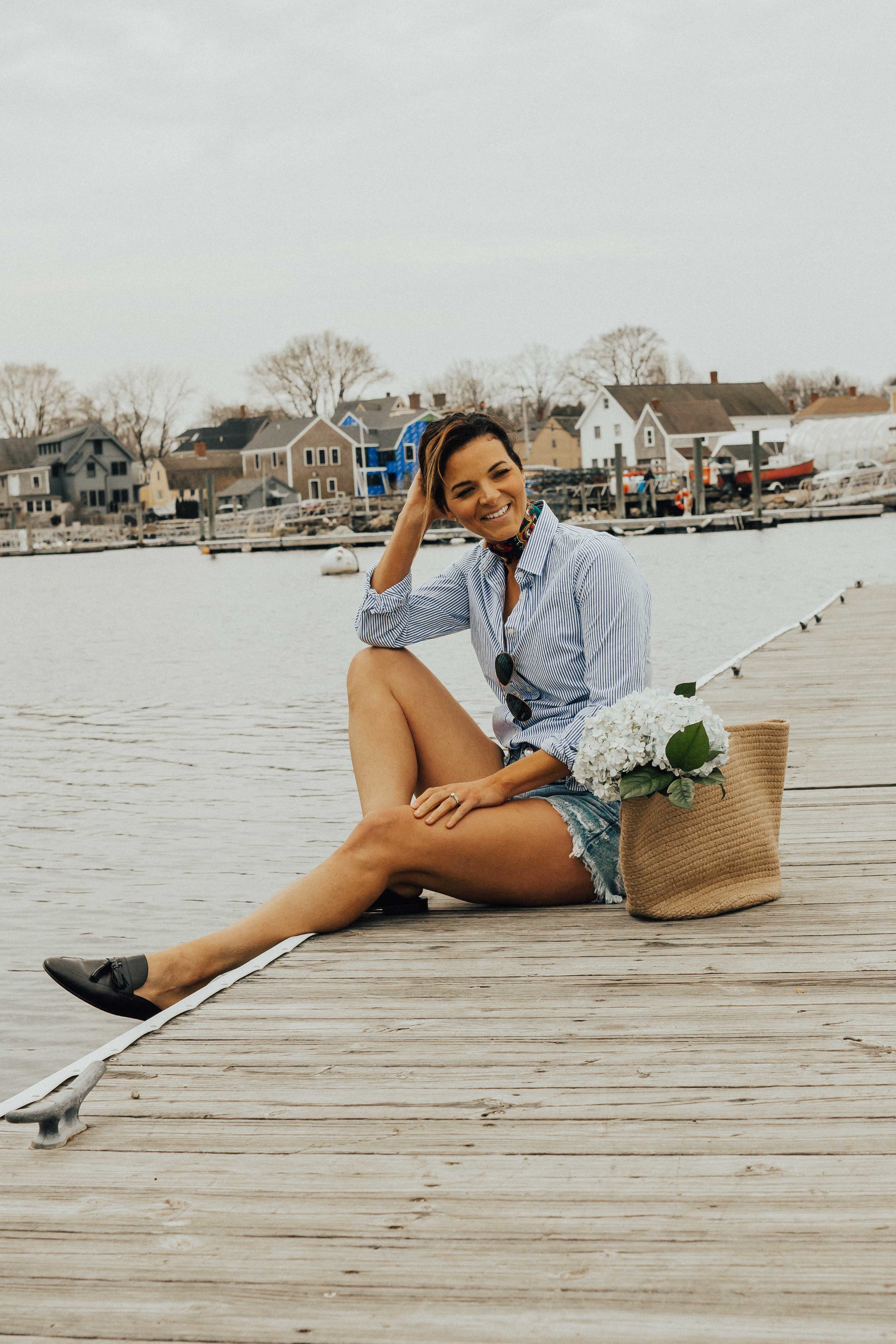 Heart and Seam is a life and style blog that celebrates fashion, beauty, wellness and positivity. Our mission is to create an online resource for women that inspires and encourages through relatable and attainable creative content.